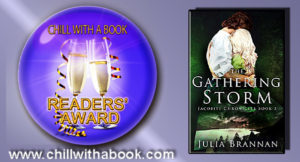 I'm very happy to announce that The Gathering Storm has won a Chill With a Book Readers' Award! This is a lovely award, because it's voted for by readers, and makes all my hard work writing feel worthwhile! Thank you so much to Pauline Barclay, whose dedication to helping indie authors is admirable, and to everyone who takes the time to read our books and vote on them.
 Here's what some of the readers said about The Gathering Storm:
I thoroughly enjoyed this book! I particularly liked the chapters where Beth & Alex are in Scotland with the clan. There was more intimacy with the characters in this book and I loved the humour. In fact, before I got to the last page, I purchased book 4. Really a great series! Congrats to Ms. Brannan for another delightful and interesting book. I appreciate her research, and I have learned so much.

The Gathering Storm, was every bit as good as the previous books I love this series, romance & intrigue & very well written. Can't wait for the next book which I believe comes out later this year.

The book well carefully written, with no apparent grammar, spelling or punctuation errors; and was very neatly presented.
Check out the website here:
Buy my books here: