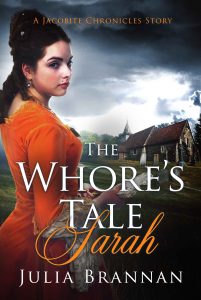 The Whore's Tale: Sarah – Blurb.
 The year is 1731 and in a small village in Cheshire, England, the Reverend Browne has determined the future of his young daughter Sarah. Her life will be dedicated to caring for him and his household affairs while he, acting as one of God's chosen few, saves souls from the Devil.
Sarah dreams of a different future, one in which she will be happy and independent. As she grows older she starts to see glimpses of a tantalising world beyond her reach and longs one day to escape the drudgery of her life, to become part of it all and maybe even have her own business.
However, a chance meeting leads first to joy and blossoming and then to the destruction of her whole world. It changes her life forever, forcing her down a path which is the very opposite of the glittering one she had hoped for, one for which she has to pay a terrible price to survive.
The first book in a gripping new series focussing on the early lives of some of the pivotal characters whose stories are later woven together in the award-winning Jacobite Chronicles. This is a companion series and can be read independently of the Chronicles.
********************************************************************************************************************************************
I'm very excited to announce the release of the first book in a new series focussing on the early lives of some of the pivotal characters from my  Jacobite Chronicles series. Sarah's book will be released on Amazon on 10th December and is available for preorder now! 
PREORDER SARAH'S TALE ON AMAZON HERE
 (Please note this is the ebook version only – there WILL be a paperback, but that always comes a bit later, as the publication takes longer.)
I'll be having an online release day party on Facebook too, with competitions and giveaways, including some great prizes, and have arranged the timing so that regardless of which country you're from, you'll hopefully have a chance to participate. It will run from 7-9pm GMT (UK time) and then 7-9pm EST (East Coast USA time) Put the date in your diary, and I'll post once I have the party link and details of what's happening! I'm hoping to have some guest authors, which will give you the chance to discover some new books too, and you'll also get to interact with other readers of the Chronicles. The parties are always great fun, so do try to come along if you can.
And to all of you who have contacted me in various ways with positive feedback, who have recommended me to your friends or in other groups, or who have left lovely reviews on Amazon or Goodreads – thank you so much. I really do appreciate your comments. They mean a lot to me. Thanks also for your patience in waiting for my latest book.
Harriet's book will be next, and I'm also frantically researching for my new series, which will go back to the start of the whole Jacobite movement, in 1688 and will feature some of the characters from the Jacobite Chronicles and a lot of new ones. It was a very exciting and complicated time, but I hope to start writing the first book early next year.
Love and best wishes, Julia xx