Although many of the characters in the Jacobite Chronicles are MacGregors, I've resisted including one of the most famous members of the clan in my books. He is, however, mentioned briefly in The Highlander's Tale: Alex, which I've finished the first draft of, and am about to start editing. So I thought I would at least write a blog about the man!
The reason I've resisted including him in my novels is in the main because although he was a real person, and in many ways seems to have been larger than life, over the centuries he has become a legend, with many fictional events being added to his undoubtedly eventful life. In actual fact, the first fictional account of his life was published during his lifetime,  by Daniel Defoe (who wrote Robinson Crusoe). But it was Sir Walter Scott who first made Rob Roy a household name, with his hugely popular historical fiction account of his life. Since then he has featured in various books and films, including the 1995 film Rob Roy¸ starring Liam Neeson, which, as with most other accounts of his life, mixes fact and fiction.
Rob Roy MacGregor was born in Glengyle, and baptised in 1671. Glengyle was part of the territory of the MacGregors, who those of you who've read my books will know were a proscribed clan at this time, and were therefore declared outlaws, whether they'd committed a crime or not. My next blogs will deal with the history of this fascinating clan, so I won't go into more detail here.
He was actually baptised Robert, Roy being the anglicised version of the Gaelic ruadh, as he had red hair, said to be inherited from his mother. As he grew up, he became a cattle dealer, which was an accepted occupation for Highlanders. The MacGregor territory around Glengyle and Loch Lomond, is on the border between the Highlands and the Lowlands. The lowland farmers concentrated more on growing crops, whereas that was very difficult to do to any great extent in the mountainous highlands, where cattle were generally grazed instead. Rob Roy would collect cattle from his neighbours both north and south of the highland line and drive them to market, where they would be sold for a profit. He would then return, pay the people whose cattle he'd sold, and earn a profit for doing so. 
However, he also went a little further than that, running what would now be called a protection racket. He would visit other cattle owners and offer to protect their cattle from thieves, for a price, of course. In fairness to him, he seems to have provided a good service to those who were willing to pay him. Those who were not, however, would find their cattle disappearing on a regular basis! Now, to the Highlanders, cattle reiving, as it was called, was not a crime in the way that horse or sheep stealing was, so cattle theft was rife, and Rob Roy's protection racket earned him a very healthy income.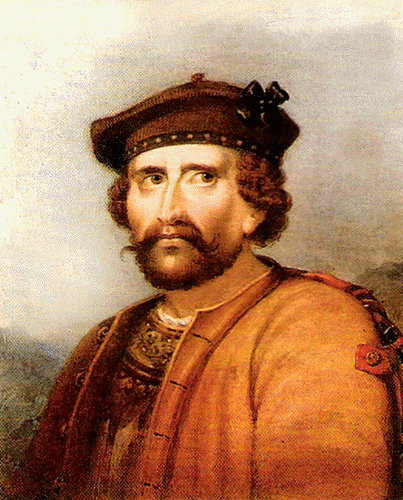 In 1711 and 1712, however, he seems to have overreached himself, taking orders and money for enormous numbers of cattle, which he did not manage to purchase. What happened to the actual cash he'd borrowed is a matter of speculation, but he was left unable to pay the people whose money he'd taken in good faith. For the cash he'd issued bonds, which his creditors had used to buy goods from others, so when he failed to repay them, he made a lot of enemies. The major problem for Rob Roy was that one of these enemies was the Duke of Montrose, a very powerful man, who owned a great deal of land south of Loch Lomond, and who was in favour with the British Government, having been made a duke due to his support of the union between England and Scotland, which took place in 1707. He was therefore not a good man for a proscribed MacGregor to offend.  The Duke of Montrose refused to negotiate a reduced settlement with Rob Roy, which would have allowed him to continue trading and maybe to have repaid his debt at some point. Instead the two of them became bitter enemies.
It's mainly due to this that Rob Roy became the folk hero that many people think of him as today. For the next few years, he conducted an incredibly cunning war against the powerful duke, and it's during this time that various myths about him have arisen, which makes it difficult to separate truth from fiction. 
Rob Roy had married Mary MacGregor, and they went on to have five sons, Coll, Ronald, James, Duncan and Robert. It seems he was evicted from his home near Inversnaid by the duke, who sent troops of soldiers to seize his lands, evicting his family and burning down his house.
At this point Rob Roy entered into a war of attrition, seizing cattle and grain from the duke at every opportunity, often in hilarious ways that humiliated the duke, while his erstwhile tenants paid their rent to him, then pleaded poverty to the duke's factor when he came to collect it. 
In 1715, Rob Roy, who had been among the Jacobite forces as a youth at the Battle of Killiecrankie, took part in the latest Jacobite rising, although he doesn't seem to have actually fought. This was possibly because he was already receiving aid from the Duke of Argyll, who was a Hanoverian. At any rate, this meant that he was not particularly trusted by many Jacobites, being thought of as one who would put his own interests before his loyalty to the Stuarts. Other MacGregors did fight, however, and both Rob Roy and Clan Gregor were exempted from the indemnity later given to other Jacobite clans by the British government.
In 1716 Rob Roy moved to Glen Shira, where he lived under the protection of the Campbell Duke of Argyll, a sworn enemy of the Duke of Montrose. This must have further humiliated Montrose, especially as Argyll managed to negotiate an amnesty for Rob Roy, as long as the clan relinquished their weapons. Needless to say, a number of useless rusty weapons were surrendered, the clansmen keeping their useful ones!
Rob Roy continued his feud with Montrose until 1722, Montrose having bought Rob Roy's lands openly in 1720, and arranged for the Garrison of Inversnaid to be built on it, with the intention of keeping the MacGregors under control. This does not appear to have been very successful!
Incidentally, the incident shown in the 1995 film Rob Roy, in which Montrose's factor Killearn was imprisoned on an island in Loch Katrine is partially true. It seems Rob Roy kidnapped and imprisoned the factor for a week, during which time he collected all the duke's rents from his tenants, leaving them each with a receipt for the amount collected before releasing Killearn unharmed. The tenants could not be made to pay their rent again, as they had receipts to prove they had paid it. It was this sort of escapade that made Rob Roy a hero to his people, and a nightmare to his enemy!
In 1722 Rob Roy was arrested (he had been arrested and had escaped in previous years), and imprisoned. It seems the intention was to transport him, but following the publication of the novel Highland Rogue, (later attributed to Defoe), which was a highly romanticised version of his life, but enormously popular, making the man a legend, King George was persuaded to pardon him, and he was released in 1727.
After this, Rob Roy moved to Balquihidder and appears to have lived peacefully until his death in 1734 at the age of 63.
Nearly a hundred years later Sir Walter Scott immortalised him in his incredibly popular novels, and there are various monuments etc to him in the area in which he lived. it's now possible to walk the Rob Roy Way, a 79-mile hiking trail through MacGregor lands. I've walked part of this, and it's well worth doing, if you can. The scenery is glorious. You can also sail across Loch Katrine on the Sir Walter Scott steamboat (one of several which make the trip), another beautiful trip, and learn about the famous outlaw as you do. I did this a few years ago, and it's highly recommended (as is the alcoholic hot chocolate served in the bar). As you wait to board the boat, you can read the story of Rob Roy on the boards mounted along the quayside, while a piper plays in the background. All this adds to the romance of the legend of Rob Roy, but in fairness, he did live in some of the most breathtaking scenery Scotland has to offer, and certainly had a great sense of humour when pursuing his war of attrition against the Duke of Montrose (although Montrose might disagree!)