Although I've written about the Garrison of Inversnaid, both in Pursuit of Princes and Tides of Fortune, I had never actually been there, getting all my information from my book and internet research. Last week I decided to remedy that, not least because Inversnaid features again in Alex's book, which I'm currently writing.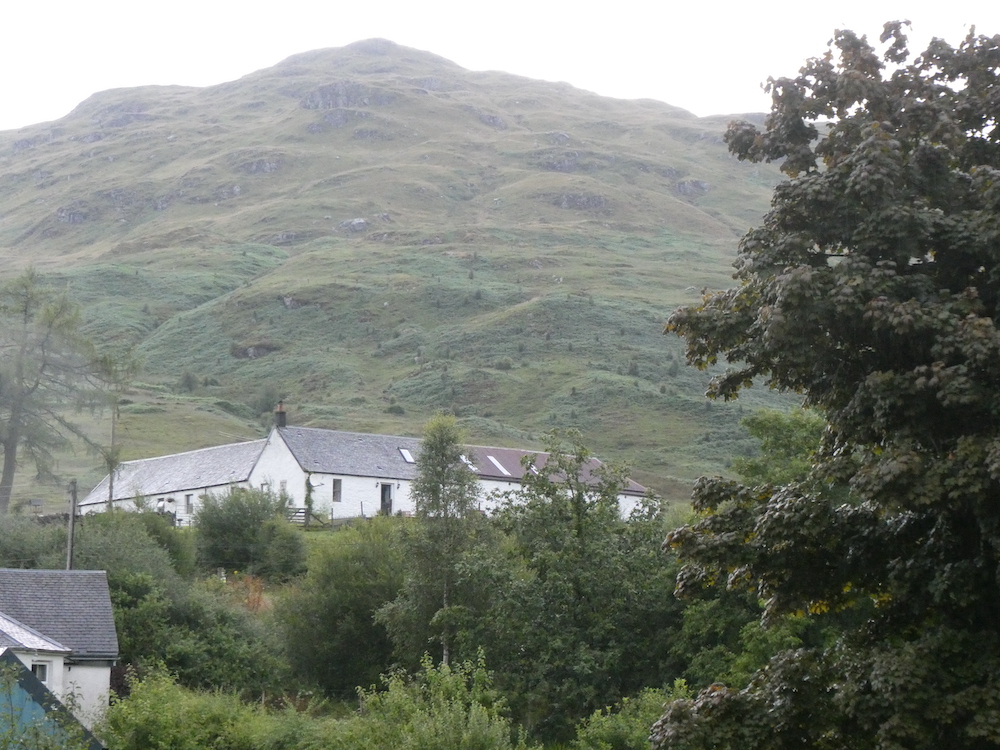 The Garrison itself is now a ruin, and has been incorporated into a small farm, run by Kelly and Paul, who also provide wonderful and very comfortable accommodation and food for travellers. So I decided to stay there as well, and I'm very glad I did, for numerous reasons, not least because it's always an emotional experience for me to visit a place I've written about for the first time, and to actually stay there made it even more special. Kelly also was kind enough to give me a tour of the barracks, being interested and very knowledgeable on their history herself.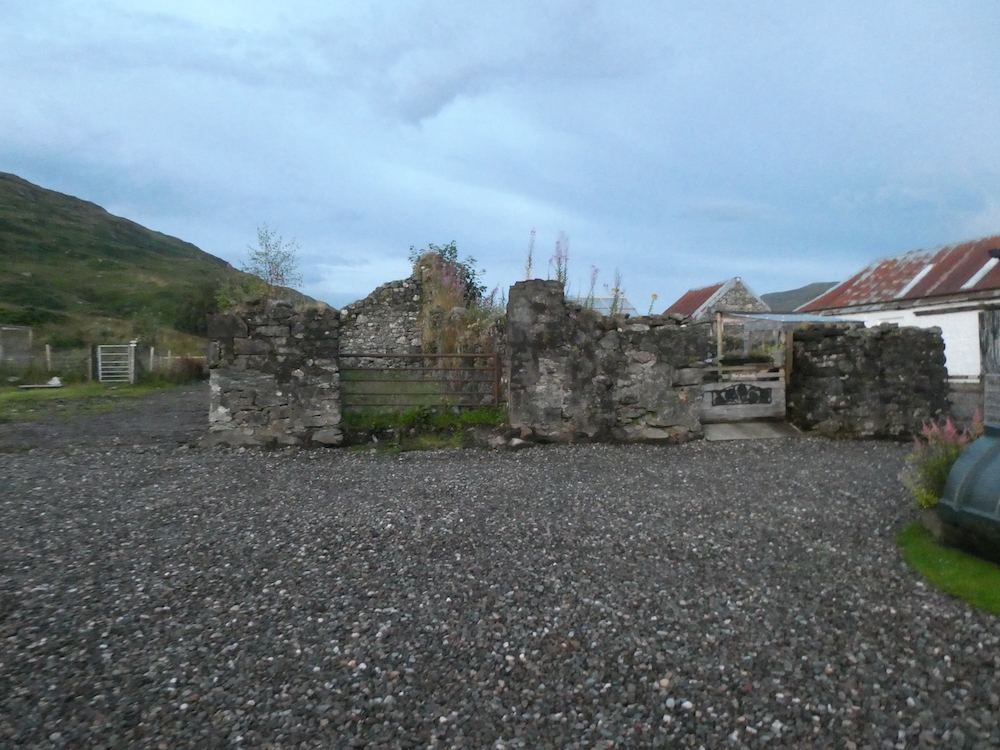 It's situated in the mountains, about a mile from Loch Lomond, and five miles from Loch Katrine – so right in the middle of what was MacGregor country.  There are a few theories as to when it was built, but it's generally thought to have been started in 1718 and completed by the end of the following year. 
It seems to have been built in part to control the MacGregors, who were an unruly clan and committed Jacobites, and had recently risen for James in 1715. Indeed the Duke of Montrose, who was at that point virtually at war with Rob Roy MacGregor (see next month's blog) wrote to the king to request that one of the barracks be sited at Inversnaid, no doubt hoping it would help him in his feud with the outlaw. It was also in a good spot to command the pass between Loch Lomond and Loch Katrine.
Inversnaid was one of four barracks built around this time in an attempt to exert some control over the Highland clans, who were a law unto themselves, and in the minds of the British government the biggest potential source of soldiers for the exiled James Stuart. The other three barracks were Bernera, Fort Augustus and Ruthven.  I've visited the remains of the Ruthven barracks, which are substantial, and Inversnaid was built to exactly the same specifications, but appears not to have had the stable buildings that can be seen at Ruthven.
The building did not happen without some intervention from the local Highlanders, and it's said that one August night armed clansmen arrived and carried off eight masons and quarriers. Nevertheless it was completed, and although it's likely that the MacGregors, possibly including the famous Rob Roy, made life interesting, the soldiers' main task while at the barracks seems to have been to build roads in an attempt to make the Highlands more accessible to outsiders.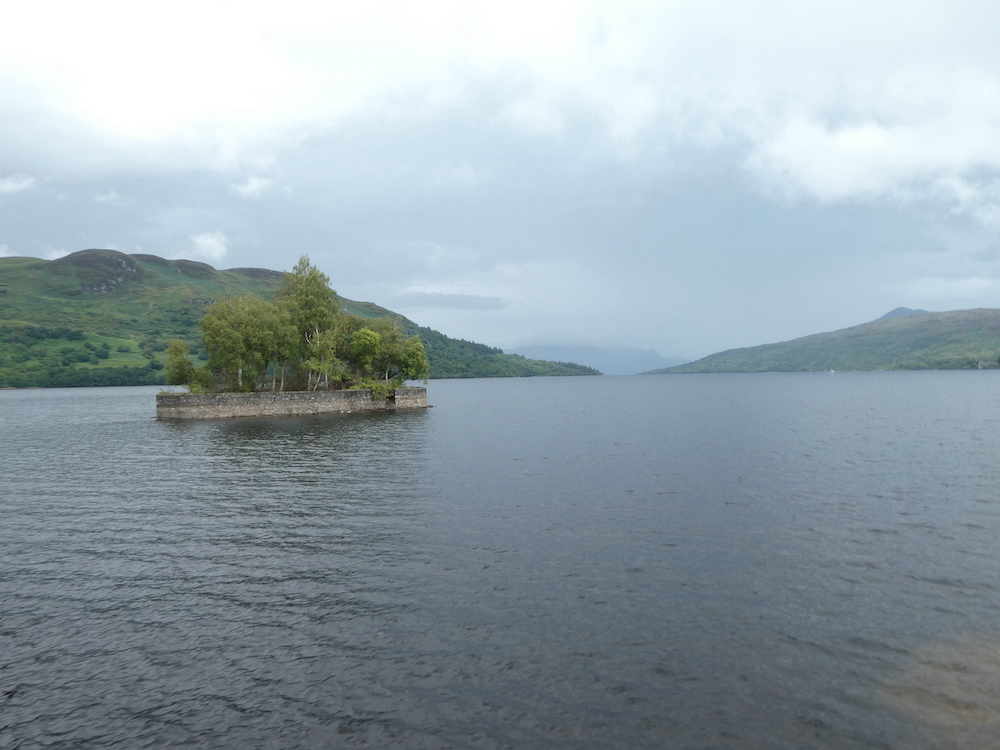 There certainly was a road from the barracks itself to Loch Katrine, five miles away, which may have been adapted from an existing track, and which is now part of the Great Trossachs Path. I walked it, and the scenery is absolutely breathtaking, although I daresay the soldiers labouring on the road in all weathers, knowing that the surrounding mountains harboured a multitude of enemies, may not have shared my euphoria!
The garrison consisted of two three-storey barracks buildings, with a parade ground in between them, as well as officers' quarters. It would have been capable of holding 100 soldiers, sleeping ten in a room and two to a bed, but it's doubtful that it was ever fully garrisoned. The well is still there, although now covered, and a reasonable part of the barracks survives, although the upper floors have been demolished as they were unsafe. Having visited Ruthven, it's easy to imagine it when it was complete though, and it would have been an impressive sight in its day.
The fort was captured by the Jacobites in 1745 and partly destroyed. There were then plans to rebuild it and add extensions. It does seem to have been repaired, as it was garrisoned to some extent until the mid-1790s, but the extra buildings were never added.
It is in a very commanding position, with wonderful views, but is surrounded by spectacular mountains – wonderful for a modern tourist or walker, but the redcoat soldiers must have viewed it as hell – there was nowhere to go outside the building, the weather was and still is unpredictable, and the surrounding countryside was teeming with unwelcoming warrior Highlanders, which must have led to a good deal of tension for the garrison's inhabitants.
Now, however, it's a glorious place to explore the area from, and I will certainly be going back there as soon as I can!