Having just published The Eccentric's Tale: Harriet, I'm aware that some of my readers, although they may enjoy reading the book, might find it difficult to believe that such a character as Harriet could really exist. Indeed people have commented that even Beth, a main character in my Jacobite Chronicles series, is also too strong and independent for her time. In answer to this I thought I'd write a short series of blogs about strong, independent women who really did exist in the past, in order to prove the Victorian view that all women in history were delicate fainting ladies in need of protection by men was far more fictional than any Harriet or Beth.
I thought to start with Catalina de Erauso, the 'lieutenant nun' mentioned by Harriet in The Eccentric's Tale. She was certainly a real person, and although some of her life experiences in her autobiography cannot be proved absolutely, there is evidence that much of what she claimed of her life did happen. 
She was baptised in 1592 in Spain, and was placed in a convent at the age of four. It wasn't unusual for this to be done at this time, in order for the affluent girl to receive a suitable education – Catalina's two sisters were also at the convent, and her aunt was the prioress.
Catalina's father was an officer in the Spanish army, and it seems that from a very early age Catalina was problematic and rebellious, declaring that she wanted to be in the army like her father. In fact she was so rebellious that her parents decided against finding her a husband and instead chose to confine her in the monastery of San Bartolome as a nun. Catalina had no intention of accepting her parents' choice, and when she was fifteen she managed to escape, cutting her hair and adopting male attire by way of disguise. 
Having successfully fought off an attempted sexual assault by a doctor who took her in (and stealing all his money as she left) Catalina then decided it was safer not only to dress as a man but, to all intents and purposes become one. She spent some time perfecting her new identity, and was a pageboy in different households for a time whilst she did this.
After three years, at the age of eighteen, Catalina set off to South America in search of a new life as a man. After travelling through Panama, she found work in what is now Peru, until, having had a fight with a man in which he was badly scarred, she had to leave the city. She continued to Lima where she managed a shop for nine months before being fired because she was caught fondling her boss's sister-in-law.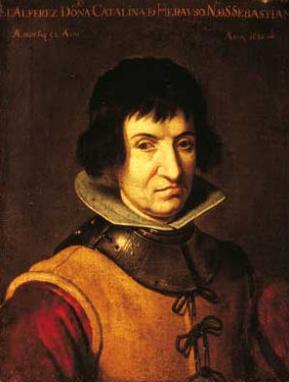 After this, as she had no reference to get a new job, she joined the army and headed off to war in 1619, against the natives who were resisting Spanish conquest. In the army she became renowned both for her efficiency and also for her brutality against the enemy, and attained the rank of Second Lieutenant after three years. When the captain of the company she was fighting in was killed, she took command and won an important battle. For this she would have been made a captain but for the fact that after the battle she killed one of the enemy leaders, who had been ordered to be kept alive. Because of this she was suspended on half-pay.
She seems to have had an uncontrollable temper (and possibly by this time was suffering from what is now PTSD), because she then went on to almost kill a man in a drunken brawl, after which she took sanctuary in a monastery for a few months, after which she agreed to be a second in a duel, for an officer friend. During the duel, however, she also got involved in a fight, and ended up killing the other dueller's second. Later she discovered that the man she had killed was actually her own brother.
Racked with guilt and remorse, she deserted the army, and headed north with two other deserters. The three of them got lost, and two of them starved to death, but Catalina was rescued and nursed back to health by a farmer' widow, who then asked her to marry her daughter. Once again, to preserve her male identity, Catalina had to disappear, but when she did, she also stole the dowry that had been collected for the marriage. 
Many of the above exploits are actually documented, due to military paperwork, so probably did happen. However for the next few years Catalina's autobiography states that she travelled as a conman and a brigand, getting involved in numerous adventures and fights, and becoming renowned both for her quick temper and expertise with a sword. At one point she killed the servant of a local judge and was sentenced to death, but managed to claim sanctuary in a local church for a month before escaping and going on the run once more.
After that she joined a militia for a time, and then became involved in a fight with a local gang leader, in which she was badly injured, but made a remarkable recovery. However, she was now a wanted 'man' in a number of places, and there were posters around the area with pictures of her face, so she decided to take sanctuary again, in Ayacucho, where she confessed all to the bishop there. She was examined, and found to indeed be a woman, and more importantly a virgin, which rendered her respectable to the Church. She became something of a sensation (hardly surprising!), but was no more interested in becoming a nun now than she had been at fifteen.
She returned to Spain, and made a number of petitions to the king for a military pension. Many of these petitions survive, and give a good deal of information about her life. In the end she was granted a pension, and was officially allowed to wear male clothes without penalty, which was granted by the Pope at the time. (cross-dressing was illegal in Spain at this time).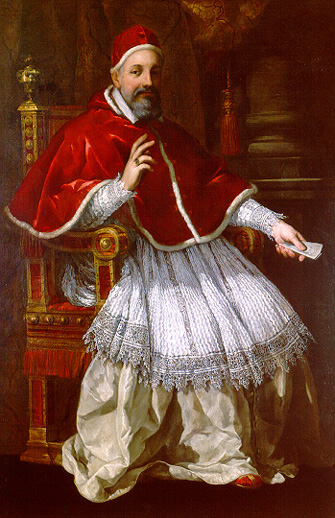 It's said that it was at this time that she dictated her autobiography (which Harriet reads in The Eccentric's Tale), although, as none of the early editions survive, it may actually be a later publication. She was painted in 1630 by Juan van der Hamen, and then travelled back across the sea, settling in Mexico as a mule driver – still dressed as a man, and became something of a local character.
She died in 1650, of a heart attack, as Antonio de Erauso.
As I said, her autobiography is said to have been published in 1625, but the earliest surviving edition is from 1784, in the official chronicles of the Spanish Indies. In 1815 it was published by a historian and politician, who, aware of how unlikely Catalina's exploits sounded, spent many years researching her history, and coming up with a good deal of evidence to support her life story. There have been a number of plays and films about her life, including a 1944 film, La Monja Alferez. 
We will never know if her whole story is true or not (certainly some of it at least is likely to be highly exaggerated), but it's certain that she was a real person, and many of her exploits are documented. The debate regarding her sexual or gender orientation has raged for many years, and I won't get into that here – there is plenty of information online about it! Certainly Catalina herself didn't talk about it. She doesn't seem to have disguised herself as a man merely to enjoy masculine freedoms, though. Even when it would have been safer for her to become a woman again (such as when wanted posters were everywhere) she did not, choosing to remain as a man for life.
While she seems not to have been a particularly nice person, I don't think anyone could describe her as being a submissive swooning female. In fact she makes Harriet and Beth seem positively pathetic by comparison!